Additional Products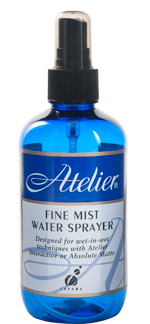 Fine Mist Water Sprayer
A specifically designed sprayer which produces a controlled fine mist intended to keep Atelier Interactive workable for as long as desired. Ideal for wet-in-wet techniques.
When to spray?
As the paint starts to dry you will feel your brush begin to drag. This means it is time to spray if you want to keep the paint wet and workable.
How to spray?
Hold the bottle back about 30cm from the painting and lightly mist the area you want to keep wet. The painting surface should not be physically disturbed by the water droplets so if you are getting large droplets or big dribbles then you are spraying too much.
What if the paint won't re-wet?
After the paint has just dried it can still be reactivated with water but after about an hour, depending on the climate and paint thickness, you will need to use Unlocking Formula in your water sprayer to re-wet the paint.
Note: For larger works you may need to up‑size your sprayer in which case be sure to get one that delivers a fine mist of water and not a jet of heavy droplets.

Incredible Brush Cleaner
Ideal for revitalizing old hard paintbrushes. This product is made from a special formulation which is designed to break through hardened acrylic, oil or lacquer on natural and synthetic paintbrushes, bringing them back to life.
Waterproof Drawing Ink
May be used directly from the container or diluted with water. Produces an intense black through to mid-tone grey and pale grey washes. Ideal for brush or pen work.