Geoffrey de Groen
About Geoffrey de Groen
Since his first solo at Watters Gallery in Sydney, 49 years ago, Geoffrey de Groen has been exploring the nature of painting. Born in Brisbane in 1938, Geoffrey was raised and educated in Sydney. Between 1957 and 1965 he attended classes at the Julian Ashton School and the North Sydney Technical College, and he completed his studies under Wallace Thornton at the East Sydney Technical College.
In the late 1960s, under the initial patronage of English architect John Pawson, Geoffrey left Australia to travel abroad, spending the years between 1968 and 1973 teaching and exhibiting in England, France and Canada. On his return to Australia he wrote for the National Times, The Canberra Times and Art International while continuing to teach and exhibit. Geoffrey taught at the Canberra School of Art from 1973 to 1977 and at the National Art School, East Sydney Technical College, until 1985 when he stopped teaching to paint full time. In 1992 he moved his studio to Taralga in New South Wales.
In 1999 and 2009 the Goulburn Regional Art Gallery mounted exhibitions of recent works by the artist. In 2000 Geoffrey was the recipient of the Hesketh and New England Regional Art Museum Overseas Fellowship. Later, in 2003, the New England Regional Art Museum mounted an exhibition of twenty-five paintings by the artist that are held in its permanent collection. In 2011, the Australian National University Drill Hall Gallery staged a selected retrospective of Geoffrey's career, Images from the Cage of Time, curated by Wally Caruana.
De Groen's work is represented in numerous institutional collections including those of the National Gallery of Australia, Queensland Art Gallery, Art Gallery of New South Wales, National Gallery of Victoria and the Tasmanian Museum and Art Gallery.
Current Exhibition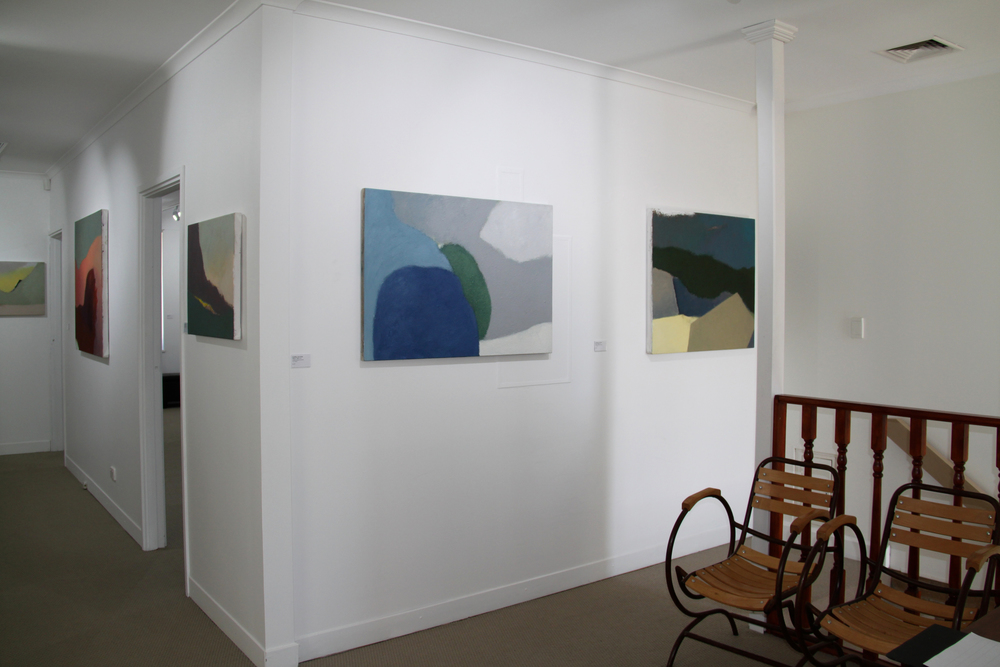 Exhibition: Inside and Outside
Dates: 5 - 27 September 2015
Gallery: Nancy Sever Gallery
Location:
NANCY SEVER | GALLERY
4/6 Kennedy Street
Kingston ACT 2604
Australia
Gallery hours: 11am to 5pm Wednesdays to Sundays
Website: http://www.nancysevergallery.com.au/
Inside and Outside presents a selection of recent paintings that eschew figuration yet are suggestive of landscapes and physical forms present in nature. In these paintings, de Groen constructs a series of visual dilemmas that engage and challenge the viewer to explore their own individual reading of each work, without direction or prompt other than through the paint itself. The process mirrors the artist's mode of working: paintings may be revisited over a period of a year or more, or created in a day. The end result is unknown at the beginning, and the titles of the paintings represent the day when, to put it in de Groen's words, 'a painting is abandoned'.
Paintings included in the exhibition
"[Atelier Free Flow is] a paint which is absolute matte in density, doesn't dry as fast as normal acrylic, and you can keep on brushing and it doesn't dry immediately and you can keep brushing wet-in-wet."